Jump to Recipe
Fluffy sourdough cinnamon rolls are soft and juicy. The filling is light, the flavor is tender, and the icing is gorgeous. Can you imagine a better idea to take a break than enjoying a sticky bun and a cup of coffee?
Unless Sourdough Croissants With Pasta Madre 😉
I know that every sourdough cinnamon roll recipe starts with the exact words. If you are still looking for your only match, try this 🙏🏻
I shared my experience and listed below my tips for this delicious recipe.
Note: I want to be honest with you. 
This is the only sourdough recipe for cinnamon rolls I've ever baked. I can't try any other recipe because this one is perfect. I've always succeeded with it. The result is always fantastic.
Traditional cinnamon rolls dough usually includes butter, milk, egg, and sugar, as well as regular flour and salt. Surely you need some yeast to make this enriched dough rise. Cinnamon roll dough may contain fresh, active dry, or instant yeast. But I prefer the sourdough version because it makes the crumb juicy and moistened while properly baked at the same time.
How To Make The Best Cinnamon Rolls Ever!
I'll follow the most critical steps for you to succeed with homemade sourdough cinnamon rolls.
Day 1
1. Leaven:
I use my active sourdough starter exactly from the fridge for the leaven. Please use your proven method and active starter. I don't use discard for sourdough bread and pastries because it may lead to extra acidity in flavor.
Mix flour, water, and starter in proportion 1:1:1 in the morning. The rise time is approximately 5 hours in a warm place at 26°C (78°F). Usually, I put it into the oven with a light turned on.
2. Dough Ingredients:
I'm pretty conservative in my food choices. I have my favorites, which provide a consistent result for me.
Thus let's follow the ingredients: butter, eggs, sugar, and milk, in addition to flour, salt, and commercial yeast or wild yeast (sourdough).
Flour
I prefer to use Caputo Tipo 00 for soft dough or brioche dough. Sometimes I play with varieties. For example:
mix 300g of Caputo 00 flour with 160g of Caputo Manitoba Oro
add 60g of whole wheat flour and 400g of Caputo 00
All these worked great for me. Good quality all purpose flour or bread flour are also suitable for this recipe.
Butter for the Dough
I use European-style butter, unsalted with 82% of fat. No compromises here, only good quality butter, whole fat, plasticity, and great rheological properties, such as President unsalted butter or Kerrygold Irish butter.
Butter for the Filling
Here comes a secret. I like to use extra virgin coconut oil instead of melted butter. I'm not a big fan of an extra buttery taste, so I found such a flavored substitute. I extremely love the rich smell of coconut oil which comes together with brown sugar and a light hint of cinnamon.
Milk
To make the fluffy dough, I use whole fat milk. It brings hydration, fat, sugar (lactose), and nutrition. In addition, it helps to make the crust a more caramelized golden brown color.
Sugar
Sugar is certainly one of the main ingredients for the filling. It can't be overestimated. For the incredible taste, we need sweetness and the rich flavor of brown cane sugar.
I add brown sugar to the dough, which has less moisture and more defined crystals. I like using the same brown or raw cane sugar for the filling. I found this resource helpful in learning more about the difference between cane and brown sugar.
Eggs
This recipe has only one whole egg you add to the dough. No need to glaze the unbaked rolls with egg wash, as we'll spread the icing on them. The baked rolls will immerse some icing and become juicy.
The temperature of the Ingredients
When you make sourdough pastry, the temperature is crucial. Wild yeasts are slow. They need time to rise the dough while maintaining the gluten strength for overnight cold proofing. My usual room temperature is 22-24°C (72-76°F), fridge temperature is 5-7°C (41-45°F).
Cold (straight from the fridge): milk and egg.
Lukewarm: leaven, flour, sugar, salt, and butter.
Mixing cold and room temperature ingredients, you'll have the proper conditions.
3. Dough Mixing
The process of dough preparation has some stages which should be respected. We can add all the ingredients at once, but the result will be unexpected. Let's follow all the steps together.
Autolysis
The first stage for mixing the dough is autolysis. It's an added benefit for the dough, which is really helpful, especially when you knead by hand.
When the leaven is ripe, combine milk, the whole egg, and flour in a bowl. Use a spoon or a bench scraper to mix the ingredients. Squeeze the dough until it is smooth without dry parts.
If you are using a stand mixer, put in a bowl of a stand mixer milk, leaven, the whole egg, and flour. Use a dough hook attachment to combine ingredients at a medium-low speed. It takes approximately 10-15 minutes. Clear flour from the sides of the bowl with a flexible dough scraper if necessary.
Cover the dough with a reusable plastic wrap and give it 15-30 minutes to rest at 22-24°C (72-76°F). It helps to develop gluten. The dough becomes more elastic and strong.
Adding Sugar and Salt
I combine sugar and salt altogether. As this recipe has quite a big amount of sugar, I usually divide it approximately into three parts when kneading by hand. Add sugar into a bowl, knead for 5-7 minutes, and add the next part.
When all the sugar is added, cover the dough and give it 10 minutes to rest (you can put it into the fridge if it looks weak or overheated). The gluten will relax and won't break while adding butter.
For a stand mixer, divide the sugar and salt into two parts. Use medium speed and knead until all the sugar is incorporated. It takes 7-10 minutes. You don't need to develop the gluten fully, but the dough should have achieved elasticity and softness. There is no need to let the dough rest before adding the butter.
Adding Butter
Before adding the butter check the gluten development. It should extend a bit but have some space for growth.
The butter should be pliable. Remove it from the fridge after the autolyze. It'll be easier to incorporate softened butter into the dough. Add small parts of butter cubes and knead the dough to strengthen the gluten. Pay attention to the picture. This is the right texture and consistency. Look at the final dough windowpane test.
Put the dough into a lightly oiled bowl or an airtight container and give it a rest.
For easier dough rolling, I recommend putting it into a rectangular container. Don't use a small bowl, as the dough will grow. A large bowl isn't also suitable because the top of the dough will be dried.
4. Proofing
Bulk Fermentation
During the dough's first rise, we need to do two coil folds.
Let the dough proof for two hours at 24-26°C (76-78°F).
Perform the first coil fold in 1 hour. And the second one before putting the dough into the fridge overnight for 8-12 hours.
Cold Proofing
Make sure your fridge temperature isn't low than 5°C (41°F) and isn't more than 8°C (46°F).
Day 2, the Next Morning
During rolling the dough, it should be cold. So prepare everything before removing it from the fridge.
1. The Filling
My family and I prefer the tender taste of cinnamon.
So to make the cinnamon sugar, I put 5g (one rounded or heaped teaspoon) of powdered cinnamon. If you like a more intense taste, feel free to add more.
Put a jar with coconut oil into warm water to make it liquid.
2. Rolling the Dough and Filling:
Dust a work surface with flour a little bit. Roll the dough with a rolling pin rectangularly on the floured surface. The dough thickness should be 5-10 mm.
Using a cooking brush, spread melted coconut oil over the dough. Don't be surprised when the coconut oil becomes white and solid. Coconut oil changes from liquid to solid below 24°C (74-76°F).
Spread the sugar&cinnamon filling over the dough. Try to cover the whole surface of the dough with the same amount of filling. It's beneficial to use an offset spatula.
Carefully roll the dough with the filling forming a big cinnamon sugar sausage.
I prefer to cut the rolled cinnamon dough with a 3,5cm length, or 85-95g for a bun. You can use a bread knife or a dental floss to do it. You'll get from 12 to 15 buns, depending on their size.
Place each roll into the baking tray covered with parchment paper. I also like to use an Ikea glass baking dish, which perfectly fits 12 rolls. And it's a great way to present buns when you have guests on a special occasion.
During the proofing, cinnamons will puff, so leave some space for their growth. Don't bother about leaking sugar syrup. It makes buns even more juicy and tasty.
3. The Second Rise:
It's time for the final rise.
Cover the sourdough cinnamon rolls with a reusable plastic wrap and place them into a warm spot to proof at 24-26°C (76-78°F) for 1- 1,5 hours.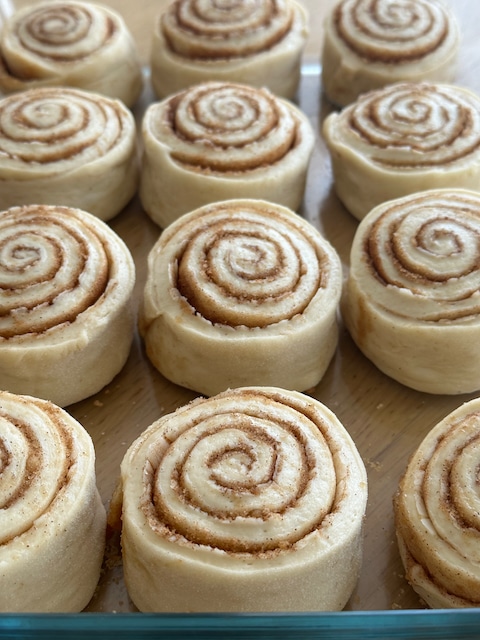 4. Icing Preparation:
Combine Mascarpone cheese, Cream for cooking, 20% fat, powdered sugar, and vanilla extract in a cup. Whip the icing using a blender with a whisk. You can do it by hand, but it'll be a real workout.
The Cream should be stiff. Cover it and put it into the fridge.
5. Baking:
Set the oven to a Convection bake setting at 185°C (365°F). Preheat it for 15 minutes.
Bake the sourdough cinnamon buns in the middle of the oven for 25 minutes at 180°C (356°F).
Don't overbake the buns. Please, arrange the temperature and baking time up to your conditions. The color of the baked buns should be light brown. If they become too dark, the crumb will be too dry.
6. Spreading the Icing:
Firstly remove the baked rolls from the oven and place them on a wire rack.
Using a baking brush, cover warm cinnamons with the icing. While cooling, buns will absorb some icing and become juicy.
Let them rest for 15 mins while doing your favorite coffee or tea.
Enjoy this fantastic moment of pleasure 🥰
Sourdough Cinnamon Rolls
Equipment
2 mixing bowls

1 kitchen scales

1-2 spoons

1 reusable bowl cower

1 dough scraper

1 roller pin

1 plastic wrap (clingfilm)

to cover the dough to protect it from drying out in the fridge.parchment paper

1 Pastry brush

1 parchment paper
Ingredients
200

g

leaven (100% hydration)

240

g

milk

1

egg

460

g

flour, all purpose or 11-12% of protein

100

g

brown sugar

5

g

salt (fine-grain)

80

g

butter (82% of fat)
The filling
120

g

brown sugar

5

g

powdered cinnamon

30

g

coconut oil, extra virgin
The icing
200

g

cream cheese

100

g

cream at least 20% of fat

60

g

powdered sugar

vanilla extract or pod
Instructions
Prepare a leaven
Mix in a bowl and cover:

70g all purpose flour

70g water

70g starter
Dough
Autolysis. Mix and knead:

200g ripe leaven

240 cold milk

1 egg

460g of all purpose flour

Adding sugar and salt. Mix:

100g brown sugar

5g salt

Knead small portions of sugar and salt into the dough. Cover the dough and rest for 10 minutes.

Adding butter.

80g of butter

Cut it into small cubes. Knead small portions of butter into the dough.

Proofing. Proof the dough for 2 hours at 24-26C. Perform 2 coil folds every 1 hour.

Put the dough into the fridge overnight.
Day 2
Filling. Mix:

100g brown sugar

5g fine-grain salt

Forming. Remove the dough from the fridge. Roll the dough into a rectangular form.

Spread the coconut oil with a brush over the dough.

Spread the filling over the dough.

Dust the work surface with flour and roll the dough in a rectangular form. The dough thickness should be 5-10 mm.

Spread the coconut oil using a brush over the dough.

Roll the dough into a long sausage-form roll.

Cut the roll every 3,5cm.

Place the buns into the baking tray with parchment paper.

Proof the cinnamon rolls for 1.5-2 hours, at 26°C.

The icing.

To make the icing, mix with a whisk blender:

200 g cream cheese

100 g cream

60 g powdered sugar

vanilla extract or pod

Preheat the oven to 180°C for 25 minutes.

Baking. Bake the cinnamon rolls at a temperature of 175°C for 25 minutes on the Convection cooking program.

Remove baked buns from the oven and spread the icing over them.

Let them rest for 15 minutes.